---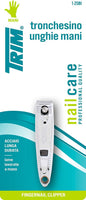 TRIM has been among the leading brands of top-quality beauty tools worldwide. Our products are manufactured to the highest quality standards that have satisfied customers for years. TRIM provides everyday solutions for everyone; quality and value products that help build confidence and empower transformation. Our mission is to deliver affordable, quality implements and beauty tools, which have an eye towards the latest professional, beauty and fashion trends while still being functional and affordable. Pick up a bathroom staple by grabbing a Trim Fingernail Clipper. This simple fingernail clipper includes a built-in nail file and fingernail cleaner along with a sturdy design that cuts nails cleanly and evenly every time.
Easy to use in both left and right hand
Especially developed by the Hand and Nail Experts, these robustly designed toe nail clippers have a hardened cutting edge combined with a nail file and under nail cleaner
Durable design keeps these clippers long-lasting.