---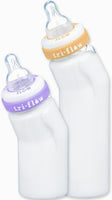 Mother's breast milk flows at different rates - shouldn't your baby's bottle?
Rotate Nipple
Slow for 0-3 months
Medium 3-6 months
Fast 6+ months
Tri-Flow Nipple System is the only system that adjusts to match mother's flow rate.
Soft, rounded tip helps baby latch on.
Unique Tri-Flow design reduces gas and nipple confusion.
Clear ounce/ml markings.
Angled bottle reduces air swallowed and helps prevent ear infections.
Bottle is safe for storing and freezing breast milk.
Sealing disk for airtight milk storage.
Ring & Nipple work with standard bottles
"Tri-Flow® is the ideal system for moms planning to supplement bottle-feeding into their breast feeding regimen." - Certified Lactation Consultants, Wendy Haldeman, RN MN, and Corky Harvey, RN, MS - Founder of The Pump Station
System Includes:
8 oz. Angled Bottle
Silicone Nipple
Tri-Flow ring, hood and sealing disk
Questions? Call (800) 344-BABY or visit munchkininc.com
3 anti-vacume vents
3 different flows