---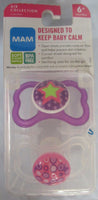 About this item
Silicone
Imported
DESIGNED FOR BABIES WITH SENSITIVE SKIN: Pacifier design allows maximum airflow to the face so sensitive skin can breathe.
EASY CLEANING & CARRYING: MAM pacifiers sterilize in the microwave in the case they come with in 3 minutes, perfect for travel and on the go. Case is reusable and perfect for keeping your MAM pacifiers clean.
ALWAYS RIGHT-SIDE UP: Symmetrical nipple so pacifier can never be inserted the wrong way. Other pacifiers (NUK pacifier, Dr Browns pacifier, Playtex pacifier) may require constant manual adjustment by caregivers.
DESIGNED TO PREVENT SKIN IRRITATION: MAM Pacifiers feature large air holes to allow air to reach baby's skin to reduce irritation. Curved shield and innovative bumps on inner shield surface prevent pacifier from laying completely flush to baby's face, keeping drool from becoming trapped against skin.
PREMIUM EUROPEAN MATERIALS: Made in Europe from high quality, 100% baby safe BPA & BPS free materials. MAM pacifiers and all MAM products meet or exceed both U.S. & European safety standards.
SkinSoft silicone nipple feels soft and familiar like mom
Anti-slip texture helps nipple stay comfortably in baby's mouth
Curved shield allows the pacifier to sit comfortably on baby's face
Extra large shield openings allow air to circulate and baby's skin to breathe
SkinSoft silicone nipple offers a familiar feel Self-sterilizing case sterilizes pacifiers in the microwave in just 3 minutes