---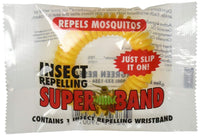 The insect repelling SuperBand creates an invisible shield around you so you don't have to deal with those pesky biting insects! The advanced waterproof system allows you to enjoy all of your normal activities without worrying about diluting the potency of the SuperBand. The SuperBand is the strongest and longest lasting natural insect repellent on the market today! Each band Lasts up to 200 hours and is safe for all ages with adult supervision. Simply slip the SuperBand on your wrist or ankle and enjoy a bug free day! The SuperBand is economical, versatile and easy to use.
200 HOURS OF PROTECTION: Superbands can be used again and again for up to 200 hours of indoor or outdoor use!
EASY TO USE: Forget messy lotions and sprays - just slip onto your wrist or ankle for instant protection from mosquitos and other pesky flying insects.
NO HARSH CHEMICALS OR DEET! : Our Superbands are infused with 3 all natural oils proven to be an effective and safe insect repellent for kids, adults, and even pets!
WATERPROOF, NON-TOXIC, AND ALL-NATURAL: Safely wear swimming, hiking, barbecuing, golfing, camping, and wherever else life's adventures take you!