---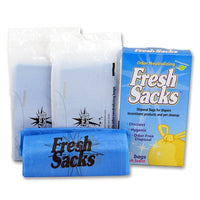 Fresh sacks are scientifically formulated to actually neutralize odor and the colored bags will discreetly conceal the contents. Each Fresh sack easily accomodates both diaper and wipes used during even the most challenging diaper change. These biodegradable plastic bags are environmentally friendly and also work well for pet cleanup, feminine care products and adult incontinence diapers. A nicer way to dispose of diapers!
Fresh scented disposal bags with odor block to neutralize odors!
Large 9 x 11 in. for baby diapers, pets or most adult diapers.
4 in. long EZ tie handles tie for an airtight seal.
Biodegradable bags are environmentally friendly.
50 peach colored bags per box in (2) 25 ct dispensing bags.