---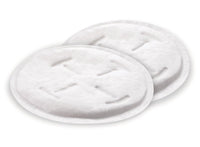 Combining over 90 years of proven, industry-leading dryness technology, Evenflo's Advanced Nursing Pads bring premium absorbency with the comfort and convenience mom deserves. These nursing pads use optimal absorbent material for best-in-class absorbency and performance, and feature extra soft material for a more gentle touch on sensitive skin. SuperiorShield protection defends against embarrassing leaks and the ultra-soft material allows for discreet silent movement. The embossed channels help draw milk across pad, away from the nipple, and FreeFlow breathability keeps skin dry. Plus, mom can choose to use the attached adhesive strips for a more secure placement inside her bra. Each Evenflo Advanced Nursing Pad is individually wrapped for clean, on-the-go convenience. Evenflo Advanced Nursing Pads provide mom with the dependability she expects and the comfort she needs the most!
ULTIMATE PROTECTION - With over 90 Years of Industry-Leading Dryness Technology, the Evenflo Advanced Disposable Nursing Pads are designed with optimal material for best in class absorbency and performance, providing the comfort and convenience you deserve in breast pads.
NIGHT & DAY - These disposable nursing pads will work for you to protect against leaks night and day. A comfortable material coupled with a compact and slim design allow for discreet, silent movement under your clothing to keep you comfortable wherever you are.
STAY DRY - As a new mom, the last thing you need to worry about is embarrassing leaks from an unexpected letdown, so Evenflo Feeding designed these pads with imprinted channels and an absorbent inner lining which draws milk across the breast pads and away from the nipple to help keep you comfortable and dry day or night.
COMFORT & PROTECTION - Protecting against embarrassing leaks should not come at the expense of comfort. The Evenflo breastfeeding pads are made with extra soft breathable material that are gentle on sensitive skin.
STAYS SECURE - 2 adhesive strips keep these pads in place for all day use. You can use them with regular or nursing bras. Simply peel and stick and you're ready to go!
HYGIENIC & EASY TO USE - Evenflo Feeding's disposable nursing pads are individually wrapped to keep clean and for on-the-go convenience. Simply grab a few at a time and throw them in your purse or diaper bag so you have them when you need them.